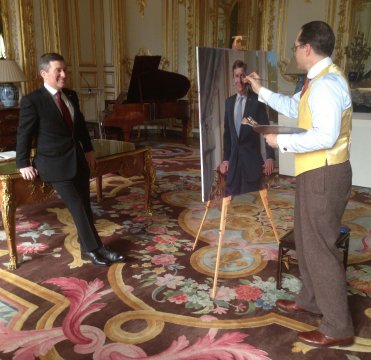 Michael Shane Neal will travel to the client's location to obtain information needed to complete a commissioned portrait. Normal time would include one to two days at the client's location.

During his visit, the artist will spend time getting to know the subject, discussing the details of the portrait including pose, clothing, setting and complete a digital photo shoot. At the conclusion of the photo shoot (approximately 2 hours), the artist and client will review the photos on a laptop computer. Together they will make final selections the artist will use as reference to create the portrait in the studio. Often time is also set aside for sketching from life.
Once in the studio, the artist will begin the portrait from the approved photographs and sketches. After approximately 1/2 of the portrait is complete, the artist enjoys a live sitting in his Nashville studio. This not only provides invaluable insight for the artist, but an opportunity for the client to view the portrait in progress.

A frame is also selected during this visit to ensure the portrait is delivered framed once completed. Whenever possible, the artist will deliver the portrait in person for final approval.